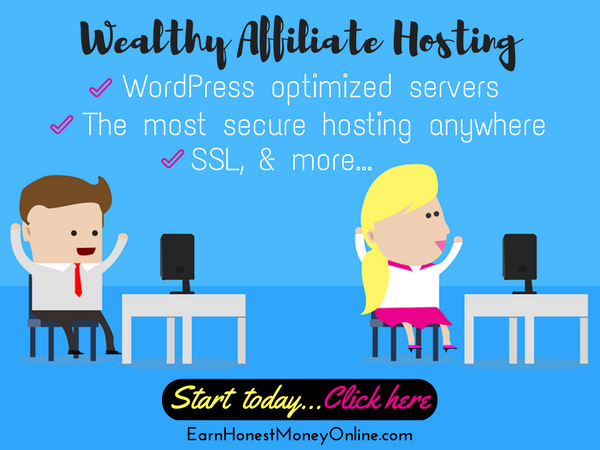 The very first time I visited the Wealthy Affiliate (WA) site I was totally skeptical. I understand if you feel that way too.
Before giving you my Wealthy Affiliate hosting review –  best for WordPress sites with security, and free SSL — I will share you my experience first so that you can see how cheap it is. It's great for small business online such as mine doing affiliate marketing from home.
It's amazing how God has led me. This is one of the blessings in disguise that I've experienced in the affiliate marketing business and making money online honestly at home. It was a thrilling experience 😉 .

Join WA today….Stop by and chat with us…
Wealthy Affiliate: Best Hosting For WordPress Websites Review — First Encounter
A few years ago, there were a couple of times that some individuals mentioned how good the Wealthy Affiliate program was. And of course, I went to visit the site.
When I got there it was so discouraging. When I found out their monthly cost is around $50, I said to myself, "Why would people pay so much every month when I'm only paying around $100 yearly at BlueHost? This is insane!"
It would be ridiculous for me to sign up for the Wealthy Affiliate offers — their monthly cost is way too high.
Every time I read someone's review praising about Wealthy Affiliate, I said to myself: "No way for me!"
One day, I received an email. The sender mentioned her favorite website hosting and how she loved the hosting features that allow her to create WordPress websites in a snap. And the possibility of making money soon because she didn't spend much time setting up a site. Her sites were all secured and she had the peace of mind.
I love creating sites. Of course, upon hearing that she can quickly set up sites and of the peace of mind that she has, I clicked the link in the email. . .
…Lo and behold, I landed in the Wealthy Affiliate site. Oh goodie!
Did you think I would sign up?
No way!!! I wasn't even interested in their 2 free websites offer. I don't want to be tricked. I don't want to pay the $47 monthly (previous monthly fee).
A month after that, my church pastor called me and said that the site I created for our sister church was hacked. A church member who wanted to visit the site was sent to another site instead. He said that in Google the church site's listing says: "This site may harm your computer."
Then several days later all of my sites in one of my BlueHost accounts were hacked. Then BlueHost sent me an email saying that my sites were deactivated because they were compromised — they got malware.
I tried to login to my hosting Cpanel at BlueHost. My sites' files were no longer where they usually were.  I called BlueHost, and they said that my files were relocated because they needed to be cleaned. When my sites got hacked, they were no longer easily accessible for me.
BlueHost's tech support asked me if I knew how to clean my sites. And of course, I had no ability to clean them. He recommended a third party — one of their business partners. I asked him about how much would it cost. He responded that the site cleaning would cost $447 for one account.
This situation happened around Christmas time. Winter time is a lean month for us. We are financially tight during winter considering my husband is a landscaper. Therefore, the cost for cleaning my sites was way too high for me.
So it was very, very stressful going through this situation. Just by relating my story to you now, I am feeling the stress that I went through the other year… and this past year too.
If your sites are being hacked now, and you are looking for ways on how to get your sites to work again I can feel your pain. I can truly relate to that. It's so stressful.
We couldn't really afford the $447 to clean my sites, but do you know what came to my mind?…
…The email…!!!
The email that I'd gotten a few months ago before my sites got hacked. I remembered the sender said that she has peace of mind because the hosting includes security.
So I went to visit Wealthy Affiliate. I contacted Kyle (one of the founders of Wealthy Affiliate) and I told him my situation.
I asked the Wealthy Affiliate tech support to consider my situation, and they helped me move my sites. Although, they did have a hard time of moving my sites to Wealthy Affiliate because — as what the BlueHost tech support said — my sites' files got relocated because they needed to be cleaned.
Unfortunately, they couldn't transfer one of my sites. They said that it was too huge of a file. This site had lots of YouTube videos.
But thank God I was led to go to a certain site where I could recover my articles by copying and pasting. Thankfully, I didn't lose that last site. I praised God for His leading.
The BlueHost tech support were somewhat surprised to hear that Wealthy Affiliate would accept my hacked sites and that they would clean them for FREE!!!
Other hosting companies would never welcome you if you transfer your hacked sites to their hosting service.
I consider Wealthy Affiliate is honest in teaching others on how to make money online and helping them to be successful in doing their business.
When I signed up for Wealthy Affiliate, I chose the yearly option: $359. So I got some savings and this would cost close to $30 monthly. This is way better and cheaper than having BlueHost's business partner to clean my sites for $447, which is only for cleaning.
It's a relief! Praise the Lord!
Oh, I'm not done sharing my experience with you yet.
There's another story…
Get your website secured today at WA hosting — click here…
Website Security Cost: SiteLock & Wealthy Affiliate Review
Here's the story…
I did have 2 accounts in BlueHost. The first account was already transferred to Wealthy Affiliate.
I had wanted to transfer my 2nd BlueHost account to Wealthy Affiliate. This second account had sites that ranked well in Google. It also had basic security from SiteLock (BlueHost's business partner).
When I set up my sites at BlueHost, I chose the URL's with www, so all my BlueHost sites had www.
The sites in Wealthy Affiliate don't have www in the URL's. Wealthy Affiliate's sites URLs are like this: http://mysite.com. When my sites got transferred to Wealthy Affiliate for the first time, the www was removed.
I had heard that Google treats your site differently if you change the URL. I wasn't really paying attention to whether it had affected my traffic when the sites were moved to Wealthy Affiliate. What I care about is that my sites are in a safer hosting.
I contacted Kyle in Wealthy Affiliate again. I told him that I wanted to transfer my sites to Wealthy Affiliate from my 2nd account in BlueHost. I told him that I was concerned of the www in the URL of my sites. He had recommended not to transfer them. He had mentioned that in a few months Wealthy Affiliate would have some major update.
So I didn't transfer them.
You know, I've been wondering why God allowed this thing to happen. He had allowed the sites from my first account in BlueHost to be moved to Wealthy Affiliate. This is still a little bit costly compared to what I paid originally while in BlueHost.
I did complain to God, "Why are you allowing this? I know You are faithful to Your promise in Malachi 3:10."
For those of you who don't know about Malachi 3:10 in the Bible, this verse is about God's promise to bless you when you return the tithe (10% of your net income).
I had been wondering and complaining about this to the Lord…
Do you know what had happened?
SiteLock sent me an email that I needed to contact them. My 2nd account in BlueHost got hacked in some way even though it had a website security through SiteLock. This thing happened 9 months after I transferred my first BlueHost account to Wealthy Affiliate.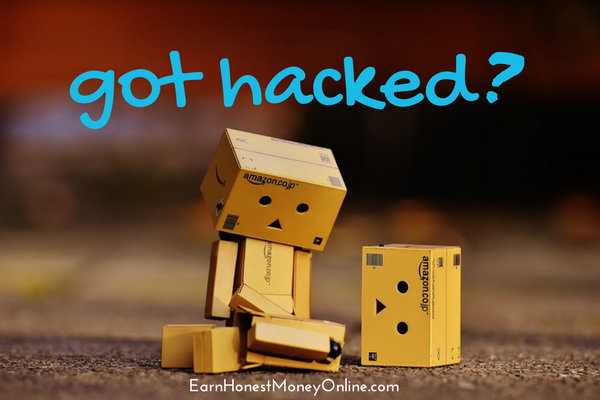 Oh, yes, it's another stressful event to go through.
I contacted SiteLock. The tech support advised me to upgrade my security to the next top level (this security still didn't include a firewall). Because I was already their customer, they charged me $10 monthly for each site. So I signed up for 6 months. I was told that I could get a discount after 3 months if I changed my mind.
I only chose to pay for the sites that were important to me — and there were 3 sites. This would cost me $360 yearly for 3 sites' security.
Can you imagine paying $360 yearly for security only? Plus, $15 monthly for hosting in BlueHost. The yearly cost for this account would be $540!…
However, Wealthy Affiliate is only $359 yearly with hosting, security, support, daily backup, training, etc…

You might be asking, why would I not just transfer the 2nd account in BlueHost to Wealthy Affiliate?
My reason was that I was concerned about if Google would de-rank my sites and my income would be lost! Remember what I mentioned to you earlier about the www in my URL's?
I might be saving money if I transfer them to Wealthy Affiliate, but the problem is: will I still make money? Will Google send traffic to my "money site"?
And do you want to know what else had happened?
About less than a month after I signed up for the SiteLock security upgrade, SiteLock sent me an email saying that one of my sites had gotten compromised (it mentioned something about cross-scripting).
So I called SiteLock. The tech support mentioned that my site needed cleaning and it needed a firewall so that it wouldn't be attacked again.
Since I was SiteLock's existing customer, they gave me a deal: only $100 for cleaning — which would normally cost $300. The firewall protection is $50 monthly.
So the SiteLock firewall security would cost me $600 yearly (for 1 site only).
And again, I compared it to the Wealthy Affiliate hosting cost of $359 yearly, which includes: security, daily backups and more features, etc.
Do you see how cheap the Wealthy Affiliate website hosting is?

Spending an additional $50 monthly at SiteLock for security gave me some peace of mind though.
But I'm still wondering what God could possibly do since my "money site" already had a firewall. Would He still open some way for me to transfer my sites to Wealthy Affiliate?
The SiteLock employees are very pleasant to talk to and are very friendly. They are very wonderful people to make business with. My "money site" was well secured, so I didn't have the need to leave SiteLock.
After putting the firewall, everything ran smoothly while SiteLock took care of my sites' security.
Start using WA's best hosting for your WordPress site today — click here…
Review: BlueHost Hosting and SiteLock Security Experience
Considering the high expenses at SiteLock, I transferred one site from my 2nd Blueshost account to Wealthy Affiliate. This site had a very little traffic, so there's no sense in spending extra for its security because it's not making that much. After the transfer, I still had 2 sites in BlueHost with SiteLock security.
I thought I was saving money from the transfer. I didn't get any discount because I signed up for 6 months. SiteLock could give me a discount, but they would charge me for an early termination fee also — then I would pay more if they gave me a discount.
When I signed up for SiteLock security, the tech support guys and the sales representative lady advised me to update my sites' theme, plugins, and wordpress core when updates were available.
When WordPress 4.7 became available, I updated one of my sites (a money site). After clicking the update button, I landed on a blank, white WordPress admin page. The front end of my site was still viewable, so visitors could still see my site.
So I contacted BlueHost. The tech support tried to fix it, but unfortunately, the page said "Fatal Error…" And then my whole site was not working at all. The front end was no longer viewable. It got worse after the tech support fixed it.
Then the BlueHost tech support guy forwarded a ticket to the higher level of support. It didn't seem as though my site had gotten fixed. I contacted another support representative and he advised me to hire a developer to fix my site — because they could not fix it.
The following night, I contacted BlueHost support to rollback my site a day before my site broke. He tried to roll back and it still didn't work.
The following night I contacted BlueHost support again. The tech support tried to roll back to the very first day of that month (2 weeks before my site broke). He said to me to wait for 30 minutes and he assured me that my site would be restored. And I firmly believed that it would be restored.
You know what? It never got restored. That was my money site, and down it went.
And you know at what time this thing happened? It happened around Christmas time!
It's winter time… money is tight… I would not be able to hire a developer.
With all this thing happened, I got the feeling that it was time for me to move these last 2 websites from my Bluehost 2nd account.
But how in the world would I move my "money site" to Wealthy Affiliate when I didn't have any backup at all in my hands?
So I went to that archive site where I was before, but unfortunately my site's contents were not available.
By God's grace and His wisdom, there's this still, small voice that kept on telling me in my mind to "go to this another site…" So I went there. Fortunately, my articles and images were still available.
And I prayed to the Lord that His angels would help me copy and paste the contents to Wealthy Affiliate before the search engines'  bot found my site empty. And surely, I got it all transferred. . .
Praise the Lord! ! !
I didn't update my last site in Bluehost to WordPress 4.7 version. I was afraid that it might disappear also.
While this last site was still alive in BlueHost I transferred the 130 articles with its images manually to Wealthy Affiliate. Of course, I asked the Lord to give me the strength — 130 articles plus images are a lot.
Just a few days after I transferred the contents of this last site to Wealthy Affiliate, do you want to know what was happening to this site at BlueHost?
Some pages broke. The theme design was not there in some posts. The content was there, but with different looking fonts. Some font sizes were big and some were very little. The sidebar was gone. It seemed there was something eating from the inside of my site. It was so creepy!
. . . And finally one night, this last site just totally disappeared. But I had no worry at this time because I already transferred the contents to Wealthy Affiliate.
I am not a techy person. I have no experience of doing FTP, and I feel uncomfortable using FTP. I just heard from someone that FTP can be swarmed with malwares when you download it.
I felt impressed to transfer the contents manually which gave me the opportunity to clean up my posts. While I was transferring them manually, I found out that there were links missing. Some sentences were stripped off — therefore the paragraph didn't make sense. This won't give better experience to my visitors. So that was a blessing to find out the errors in my site.
By the way, if you want to know how I restored my site manually and without having a backup (no articles in my hand at all), you can contact me here. It's free. And I hope it's not too late to retrieve your site's content.
Add SSL to your WordPress site from WA Hosting —
no software and coding needed — click here…
Wealthy Affiliate SSL (HTTPS) for WordPress Sites
When my "money site" disappeared, I was no longer concerned about the www in my URL. My sites needed to be moved no matter what.
God knows the timing. . .
There was a news that Google would give favor in ranking sites with https (SSL) starting January 2017. So, Wealthy Affiliate makes the SSL available to their Premium (paid) members' sites.
So, if my sites would not have the www after the transfer to Wealthy Affiliate, this will not give a much undesirable impact in its ranking because my sites will have an https in Wealthy Affiliate.
What a providential! God really knows what He's doing. We just have to trust in Him. He will open the way. He will provide the things that we need. My sites are still doing well. Praise God!
What about the FREE SSL?
I did mention the FREE SSL, right?
Starting in January 2017, Wealthy Affiliate was giving FREE SSL to their Premium members.
Someone mentioned in the Wealthy Affiliate members area that other hosting companies are charging around $100 yearly for SSL (https) for each site. Whereas, in Wealthy Affiliate the SSL is FREE!
Secure your site today with WA's most secure hosting
and SAVE more — click here…
Best Website Hosting Comparison Review: Wealthy Affiliate Cost — So CHEAP!
While I was in BlueHost and SiteLock, this was my monthly expenses:
BlueHost Hosting: $15.00
SiteLock: $30.00 security without firewall for 3 sites
SiteLock: $50.00 firewall added to 1 site
Total: $95.00 monthly
Total: $1,140.00 yearly
Compared to Wealthy Affiliate:
Monthly option: $49.00
Yearly option: $359.00 Huge Discount – CHEAP (I chose this option, equivalent to $29.92 monthly)
This includes website hosting, security, daily backups, SSL, support, training, 25 top level sites, 25 sub-level sites with site rubix platform, and much more. And also, Wealthy Affiliate has WordPress optimized servers.
When your site(s) get hacked, Wealthy Affiliate will clean it for you FREE — what a peace of mind you can have!
One day I was looking for better deals, and I contacted one hosting company. I asked them if they will clean my sites if they got hacked — their response: They DON'T. That hosting company is charging $24 for monthly hosting. I don't know how much will they charge for the SSL.
In this day and age, if you are serious with your "money-making online" venture, you really need to have your sites well secured.
If cyber criminals are hacking Pentagon and other major sites — they will hack your sites too.
God is really faithful to His promises. No wonder why I had troubles with my sites' security. He was opening the way where He can bless me more. What savings I have with Wealthy Affiliate!
I hope my Wealthy Affiliate review for their hosting service and other features will help you in your search for best site hosting, security, and free SSL.
You have seen the comparison of the amounts of my website hosting and security expenses above.
Wealthy Affiliate definitely has the best cheap website hosting. It includes security, SSL, daily backups, training, tech support, weekly live video classes or webinars, 50 web sites (25 top level sites, 25 sub-level – site rubix platform), easy set up for sites and so much more…
About Wealthy Affiliate:
To get started, you need to create a free account – see here.
Once you sign up, within the first 7 days you have FREE full access to test drive the Premium (paid account) functionality without credit card requirement. If the Premium membership is for you, you can upgrade to Premium.
There are 2 memberships in Wealthy Affiliate:
1. Starter membership (FREE, no expiration) – You can create 2 free websites (example: mysiteniche.siterubix.com). You can remain as a free member and continue working on your 2 free websites without time limit.
After the 7-day test drive of the Premium account – you will have no longer access to the full functionality of Wealthy Affiliate. Find the comparison table below.
2. Premium membership – This is a paid membership with too many features for me to mention. Click the video below to watch.
Special bonus offer: $19 for first month fee
Monthly fee option: $49 or
Yearly option: $359.00 (equivalent to $29.92 monthly – great savings…cheap!)
Video: Click below to watch the Premium account with full functionality from Wealthy Affiliate website hosting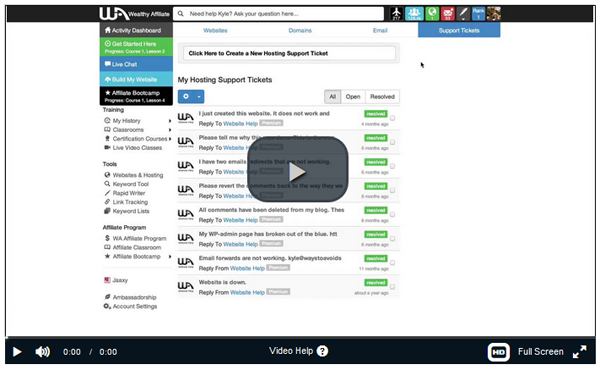 Members Benefits with Wealthy Affiliate Hosting
The table below shows the members' (Starter and Premium) benefits of hosting your website(s) at Wealthy Affiliate.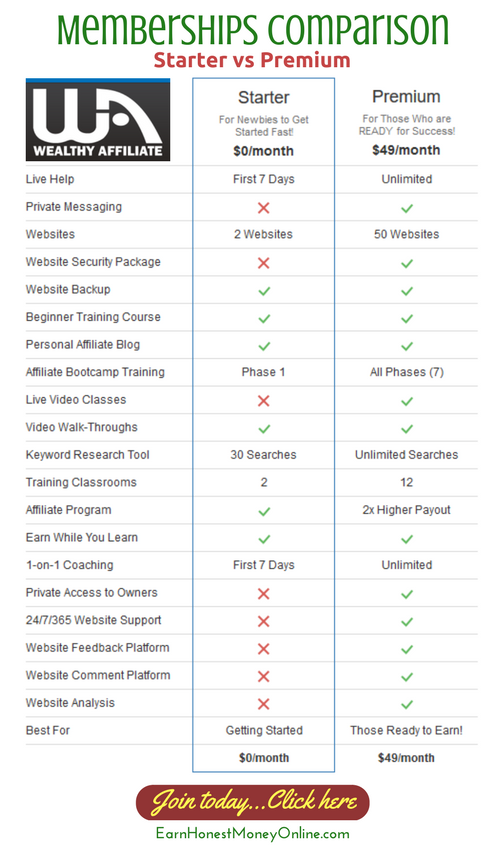 In the comparison table above, you see all the features included in Starter and Premium memberships. I firmly believe the Wealthy Affiliate hosting is the best!
Oh yes, the Premium account includes SSL. Can you see this site has a "green padlock" in the address bar of your computer and it has also an https?
Yes, Wealthy Affiliate makes the SSL available FREE, and EASY for Premium members — no coding and software needed. I just pushed the ON button.
I feel so fortunate and blessed to have my sites in Wealthy Affiliate hosting… And it's the best!
Get Wealthy Affiliate's best website hosting for WordPress now — Start here…